In the framework of their campaign #StopTheToxicDeal RSA and PRO ASYL publish today the fourth topic that concerns Detention.
#StopTheToxicDeal
Detention as deterrent
The implementation of the EU – Turkey Statement (the "deal") could not have been achieved without the creation of new detention facilities, in particular the Pre-Removal Detention Centers (so called PRO.KE.KA) on the Aegean islands. They are essentially prisons, where even asylum seekers who are considered "delinquent" are being detained for administrative reasons. The extensive practice of administrative detention seems to be one of the main goals for the Greek government in the implementation of the "deal".
Today, alongside the local police detention centers, there are PRO.KE.KAs operating on Lesvos (with capacity of 210 persons) and on Kos (with capacity of 500 persons), while another one is to be created soon on Samos (with capacity of 300 persons). On Chios, the climate remains explosive, as the site for the creation of a PRO.KE.KA has not yet been found due to extensive reactions from the local community.
People detained are mostly those whose asylum claims are rejected at second instance, in order to be immediately returned to Turkey under the "deal". At the same time, in November 2017, police begun implementing a 'pilot' detention practice on Lesvos and Chios. Syrian nationals started being detained upon their arrival despite their explicit wish to apply for asylum and without being subjected to reception and identification procedures as provided by the law. This new practice is legally woeful and unclear. However, the authorities seem keen on expanding detention to those who have been denied asylum at first instance, outside of any legal framework, guarantees and process.
Detention conditions are a matter for which Greece has repeatedly been convicted by the European Court of Human Rights, yet the authorities continue to apply systematically the measure of administrative detention without considering alternative measures. In island police detention facilities, which are by law destined for a few-hours stay, conditions amounting to inhuman and degrading treatment still prevail. Detainees sleep for months in overcrowded cells, on mattresses on the floor, without any possibility for exercise and yard time, often deprived even from natural light. There is no psychosocial support and no interpretation service provided by the state or, when provided, they are particularly insufficient. In both police stations and PRO.KE.KAs, the provided medical services are inadequate and usually require the transfer of detainees to local hospitals. From time to time, scabies among detainees is a very intense problem (a typical example for this in the past months is the one of Chios police stations). Vulnerable groups such as victims of torture and mentally ill are left without any care for weeks or even months, while there are no designated spaces for women and children.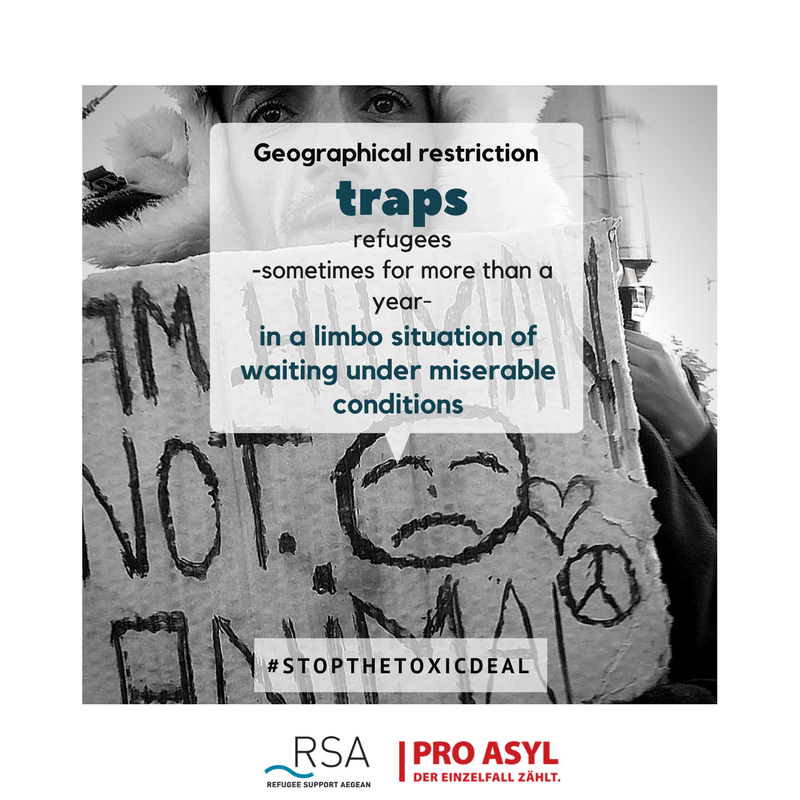 Because of the "deal" and the law on the organization and operation of the Asylum Service (article 41 Law 4375/2016), a special form of restriction of freedom was created, the so-called "geographic restriction", which is imposed indiscriminately and prohibits the departure of the asylum seekers from the islands. The Director of Asylum Service issues a "geographic restriction" for "reasons of public order", under the pretext of a faster processing and monitoring of asylum claims without individual assessment and justification. This "red stamp" in the international protection applicants' cards is trapping them for a long period of time – even for more than a year – in a limbo state of waiting under miserable conditions. Those who violate the geographical restriction that has been imposed to them are arrested and detained in police stations or a PRO.KE.KA. The issues arising from enforcing the measure of geographic restriction and its compatibility with national and European law were recently (in February 2018) discussed before the Highest Administrative Court (Council of State), following appeals by the Greek Council for Refugees and five Bar Associations of the Aegean islands. A decision on that matter is pending.
"Refugee Support Aegean" believes that, following the implementation of the "deal", administrative detention is used as a tool in order to discourage new refugee flows and also as a lever for asylum seekers so they resign from their claims, thus circumventing the existing legislation.
"Refugee Support Aegean" notes that administrative detention should only apply as a measure of last resort and after an individual assessment.
Humam* the child of war
Humam was born in the outskirts of Damascus in the late 90's. He was only 13 years old when the war in Syria erupted.
"I have very few memories of my life before the war. I only remember my school, which stopped operating when the war started and was destroyed by bombardments."
Until the day he left Syria with his father, Humam experienced on a daily basis the devastating consequences of war. Humam was daily faced with mass murders, bombings, unjustified civilian arrests and horrific, heinous images. From a very young age, he was living with the risk of recruitment. At age 13 he was abducted by armed groups and forced to work in building embankments, where he was incessantly abused. 
While growing up, the risk of recruitment by armed groups or the Syrian army ramping up, he was living under constant fear. He remained confined in his house until his building collapsed during a bombardment in September 2016.
Humam mourned close relatives and, heartbroken, remembers:
"We were informed of this tragic incident in the morning, by neighbors. My grandfather got up early in the morning and was at his front door, leaving his house to go pray at the mosque. He was shot by a sniper, who was tracing his targets probably through a thermal camera. As soon as he fell on the ground, my grandmother run at the front door and was also shot by the sniper. For hours, their bodies laid next to one another and no-one dared to get closer. The following days, the neighbours "sent us their bodies"".
Some time later, Humam and his father left Syria. They managed to enter Turkey after nine failed attempts during which they were directly fired upon by Turkish snipers. On  their attempts, he characteristically mentions: "Our forth attempt had the exact same ending as our second one. When we reached the fenced wall, Turkish soldiers started firing directly upon us.   We run away from the fence. Someone was wounded in his arm while trying to climb it".
Following the last and successful attempt, Humam and his father stayed in Turkey for five days only. During this short stay, they were arrested and detained by the Turkish authorities. They suffered abuse and degrading conditions. As Humam describes, "they made us clean the toilets and other rooms of the department, aiming to humiliate us. When my father reacted to the order, he was beaten with an electric rod. Throughout the detention we were tied, hands in our backs, with elastic bumps (Tiewraps). Even small children were tied in tiewraps". EASO admitted his testimony as credible regarding his mistreatment in Turkey but didn't review his allegations on Syria.
Humam and his father, who suffers from serious cardiological and orthopedic problems, entered Greece in June 2017 and sought international protection. Deportation decisions were automatically issued at their expense without any individual assessment of their case. Their asylum claims were reviewed separately.
In November 2017, Humam's asylum claim was dismissed by the Appeals Committee as "inadmissible". A few days later, the same Committee postponed the review of his father's claim, so that he would be referred to medical screening by a cardiologist and an orthopedic in order to diagnose his vulnerability.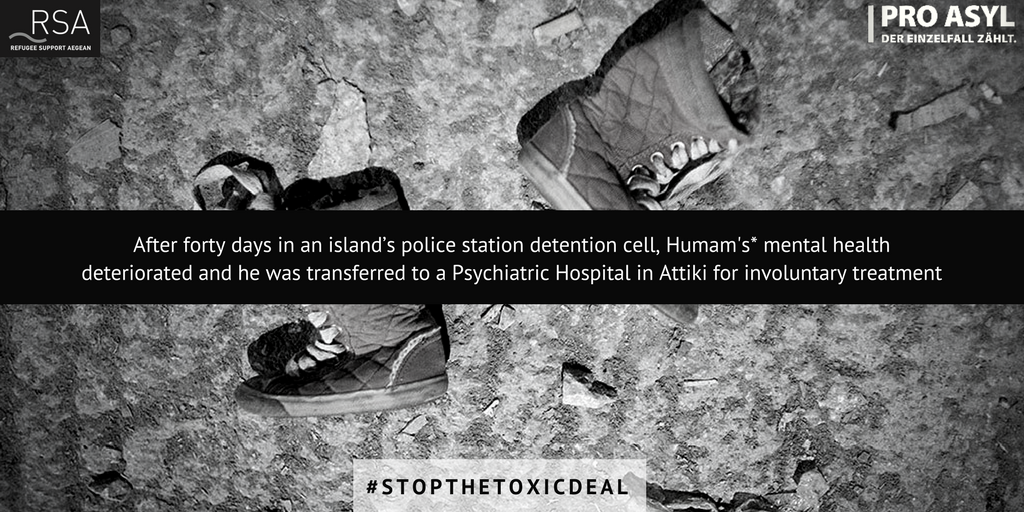 Humam was then arrested by the police and, after he was served with the dismissal of his claim on second degree, he was detained for the enforcement of the deportation decision and his return to Turkey.
During his detention, Humam stayed for forty days in an island's police center detention space, until there was an order to stop the detention and to transfer him to a Psychiatric Hospital in Attiki for involuntary treatment. This prolonged detention under harsh conditions without any psychosocial support has exacerbated his trauma and his overall mental health.
Even though there were clear and sufficient indications that Humam is a victim of violence / mistreatment and that he is suffering from post traumatic stress disorder, not once during the asylum process was he referred to and examined by a medical and psychosocial team in order to diagnose his vulnerability. Also, his father's vulnerability, who directly depends on Humam's assistance, was never taken into consideration.
On the contrary, the Greek authorities treated Humam and his father's cases in a contradictory and inhumane way, putting their physical and mental health at risk. Today, Humam's father is considered as  vulnerable and his asylum claim process is pending.
* The young refugee's identity has been altered in order to protect his anonymity.
"Studies on refugees who were held on detention centres, show intense psychological and interpersonal difficulties. High rates of depression, low quality of life scores and struggling to rebuild their lives in the years following release from detention. They suffer an ongoing sense of insecurity and injustice. Long detention leads to profound changes to view of self.
M.A. describes one of the forms of torture he was subjected in Syria, known as "dulab", in which he was forced to enter and fit – with great difficulty – into a tiny closet and stay there for a long time. During our meeting in the corridor of the police station where he is being detained, the door opened a few times and I saw the apparent lack of space in the detention facility, as prisoners were sitting on bare dirty foam mattresses, squeezed to each other and had to stand up in order to open the door. He confirmed to me that one could barely lie down.
Because of the lack of space they are forced be sitted almost all the time and I can't help but compare what he experiences now to the torture of dulab"
Konstantina Kranou – Social Worker, specialised in psychotraumatology, RSA's associate