Since March 2016 the Statement / "Deal" of the Heads of European Union (EU) Member States and Turkey represents an institutional deviation. Its aim is and continues to be the unconditional and out-of-bounds exclusion of refugees from access to EU territory and from the protection to which they are entitled.
The delivery of the deal has come at an unspeakable cost for those seeking refuge in Europe, for local communities on the Eastern Aegean islands, driving a consistent, EU-sponsored dismantlement of legal standards at Greek and EU level and crucially contributing to "rule of law backsliding" in the continent.
Today, Refugee Support Aegean (RSA) and Stiftung PRO ASYL launch a mapping of the repercussions of the "deal" through a series of outputs about the crucial factors that prove its abject failure.
An extensive legal note analyses the capture of rule of law by a Statement and the full range of the catastrophic consequences of the EU-Turkey "Deal" on the rule of law from 2016 until now.
Life in "Moria" as a symbol of the failure of the "deal" over the past five years is documented through a photo exhibition by Giorgos Moutafis.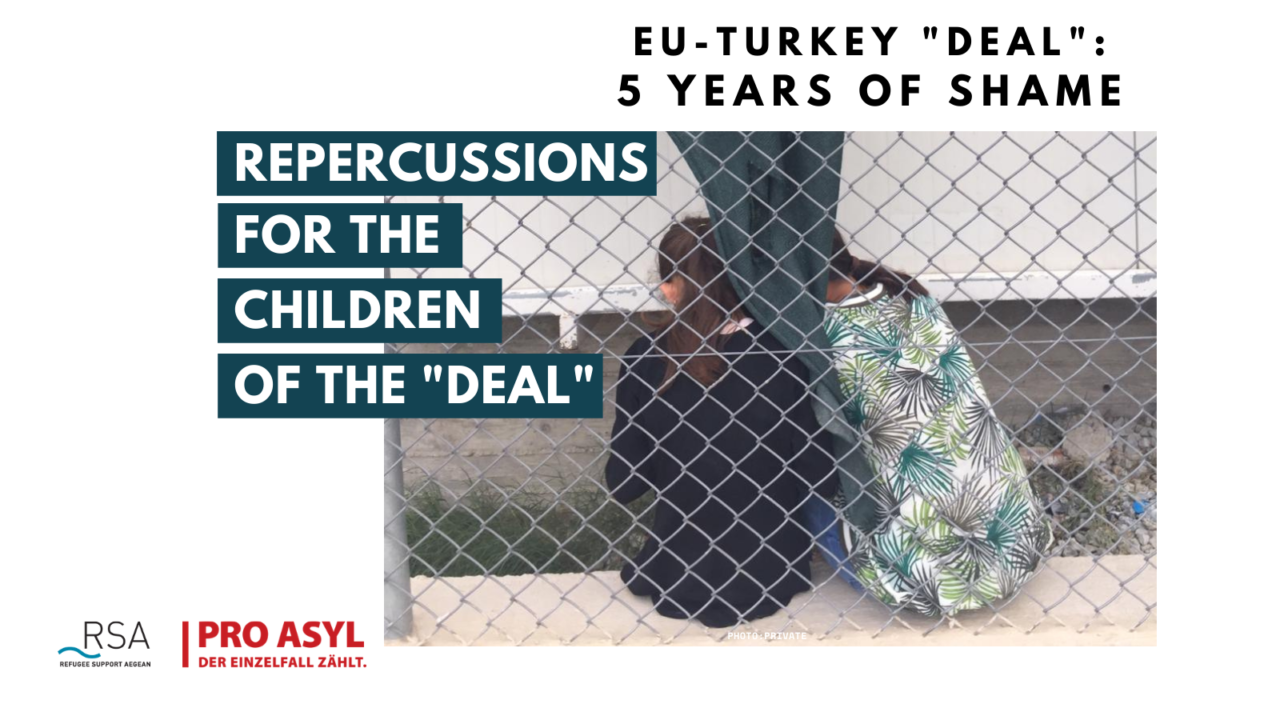 Four experts present the impact of confinement on the mental health, rights and life of the "children of the deal".
Three illustrative stories of refugees who experienced the tragic consequences of the implementation of the "deal" at any cost remind us that human rights are trampled every day in the Reception and Identification Centres of the Aegean islands.
The vicious "circle of signatures" and painful survival in the Reception and Identification Centres and refugee camps is imprintedthrough the lens of refugee Ahmed Ebrahimi.
Refugees and islanders talked about the effects of the deal on their lives and on local communities. The event was coordinated by journalist Fotini Lampridi.
It is now imperative that the "EU-Turkey deal" be abolished and that the EU pursue radically different policies to the simplistic and dead-end approach of deterrence and militarisation of external borders.
In an online discussion, refugees and island residents speak about the consequences of the "deal" on local society and on their lives. The discussion is coordinated by journalist Fotini Lambridi.